ABSTRACT
Background
In Brazil, the services offered to children and adolescents are still in the mold of the adult population, not contemplating the specificities of this public.
Objectives
To characterize the admissions of children and adolescents in a Psychosocial Care Center II in the north of Ceará, Brazil.
Materials and Methods
A quantitative descriptive study was conducted with secondary and primary data. The convenience sample comprised 1,942 admissions of children/ adolescents to the psychosocial center. The data were extracted from the attendance record and comprised the following variables: year/month of the visit, age, location of residence, diagnostic hypothesis, and medical record status.
Results
The highest number of children's visits (35.64%) occurred in 2018. In 2019, teenagers accounted for most of the visits (33.50%). Most children and adolescents lived in the urban area (79.38% and 77.40%, respectively). The most frequent diagnostic hypotheses were hyperkinetic disorders (19.48%) among children and depression (20.51%) among adolescents.
Conclusion
The psychosocial services provided in the center are aimed at children, teenagers, and adults. It is urgent to offer adequate service to children and adolescents who attend the service.
Keywords: Epidemiology, Mental health, Mental Health Services
INTRODUCTION
Mental health care for children and adolescents in countries like Brazil is still a major challenge, particularly concerning the organization of services, professional practice, day-to-day case management, and the factor involved in providing comprehensive care. In Brazil, the services offered to children and adolescents are still in the mold of the adult population, not contemplating the specificities of this public. Therefore, healthcare workers need to be attentive to the stages of child development and use appropriate interventions.1 In Brazil, the Psychosocial Care Centers (CAPS) for children (CAPSi) serve children and adolescents daily, being available in municipalities with more than 200,000 inhabitants.2 These centers provide clinical and social assistance to children and adolescents with serious needs. Besides, these psychosocial centers work in articulation with other services of the Brazilian healthcare network under critical health care.3
In countries such as Canada, a wide range of providers are available, funded by the public and private sectors. This diversity of providers leads to fragmented and disparate access to mental health services, generating gaps and making it difficult to characterize the mental health assistance offered to children and adolescents.4 The mental health care system in Australia is a complex mosaic, with eight state and territory governments funding approximately 90% of all public health services. In addition, services are provided by Commonwealth-funded mental health services, community-managed organizations, private health providers, and Primary Health Networks (PHN) responsible for planning and coordinating services at the regional level.5 South Africa is closer to the reality of Brazil; there is a lack of actions guided by a mental health policy for children and adolescents, making it difficult to implement actions in deprived places.6
The Brazilian CAPS centers belong to a psychosocial care network called RAPS (in Portuguese, Rede de Atenção Psicossocial). This network aims to accommodate the psychic needs of patients while they remain inserted in the social environment, building their autonomy and citizenship.7 The RAPS advocates points of care for persons with mental disorders, including the harmful effects of crack, alcohol, and other drugs. The network comprises services and sectors, such as CAPS, Residential Therapeutic Services (RTS), Coexistence and Culture Centers, Reception Units (RU), and hospital beds in CAPS III. CAPS II assists patients with severe and persistent mental disorders, according to the organization of the local health network, and is present in municipalities with more than 70,000 inhabitants.8 The health professionals working in the CAPSi must consider the specificities and needs of children and adolescents assisted in CAPSi.9
Some studies conducted in Brazil on mental health care provided to children and adolescents revealed that the spaces offered are not designed especially for children, being used by all patient groups, from children to the elderly.10,11 Therefore, this article aims to characterize the admissions of children and adolescents in a Psychosocial Care Center II in a Brazilian municipality with more than 200,000 inhabitants.
The relevance of the study lies in the need to improve the organization of services provided by CAPS II, in a municipality in the north of Ceará, with 212,437 thousand inhabitants, in addition to the need to understand how the regional access and referral flow of children and adolescents occur in the RAPS network.
Study design
A quantitative descriptive study was conducted with secondary and primary data. The secondary data was obtained from the records of children, and adolescents admitted to a CAPS II from 2016 to 2019.
Context
The study was carried out at a CAPS II center in a municipality located in the north of Ceará, Brazil. According to the Brazilian Institute of Geography and Statistics, this municipality has an estimated population 2021 of 212,437 thousand inhabitants.12 The Comprehensive Mental Health Care Network (RAISM in Portuguese) was instituted by Ordinance No. 113/00 after the disqualification of Casa de Reposo Guararapes.13 The network of mental health services in the municipality chosen for this study is composed of Psychosocial Care Centers (CAPS II), Psychosocial Care Centers for Alcohol and Drugs (CAPS-AD in Portuguese), Therapeutic Residential Services, Psychiatric Inpatient Units in General Hospitals, Medical Clinics in General Hospitals, Psychiatric Outpatient Clinics belonging to Centers for Medical Specialties, and Community Therapy centers.
Data collection and information sources
Data collection was carried out in 2020, involving 1,942 admissions of children and adolescents recorded in the center mentioned above in the period 2016-2019. The data collection form comprehended information such as medical record number, year, month, name of the patient, age, place of residence, medical record status (ACTIVE/INACTIVE), diagnostic hypothesis, and name of the person responsible for the child or adolescent. After the first data collection stage, telephone calls were made to the parents/guardians of children with an INACTIVE record to obtain additional information when needed. All participants were informed about the purpose of the call, the freedom to not participate in the study, and the secrecy, confidentiality, and integrity of personal data. Telephone contact was made in the morning and afternoon from Monday to Friday.
In order to preserve the identity of the participants, codes such as "Responsible 1" were used and abbreviated as R1, R2, and so forth. The following question was asked to the participant guardians: What difficulties have you found in monitoring your child at the CAPS center?
The following variables were analyzed: month/year of visit, age (years), place of residence (geopolitical territory), type of referral received, reasons for inactivity of the medical record (case referred to another service-CAPS AD, primary healthcare center, or Applied Psychology Service of the Public University-CE, Brazil or abandoned follow-up), and diagnostic hypothesis (ICD-10 diagnosis code).
Participants
The records of children and adolescents registered in the center from 2016 to 2019 were included. Duplicate records and those with erasures were excluded.
Statistical methods
A simple descriptive statistical analysis was performed using the Epi Info statistical package, version 7.2.4.0. The results were presented using absolute and relative frequencies.
Ethical considerations
The study protocol was approved by the Ethical review board of the Federal University of Ceará (UFC) with protocol approval number 1.684.517. All participants signed informed consent prior to participation.
RESULTS
Table 1 demonstrates the characteristics of the participants included in the study. In the urban zone, there was a predominance of children aged 10 to 12 years (35.07%) and adolescents aged 13 to 15 (41.62%). In the countryside, there was a predominance of children aged 7 to nine (40%) and adolescents aged 13 to 15 (37.5%). Two adolescents aged 13 to 15 years and 18 to 19 years were admitted in the center from other municipalities.
Age range
Geopolitical territory
Countryside
Urban area
Other municipality
n
%
n
%
n
%
Children
1 – 3
2
5.00
17
11.03
0
0.00
4 – 6
12
30.00
38
24.68
0
0.00
7 – 9
16
40.00
45
29.22
0
0.00
10 – 12
10
25.00
54
35.07
0
0.00
Adolescents
13 – 15
21
37.50
87
41.62
2
40.00
16 – 17
16
28.58
58
27.76
1
20.00
18 – 19
19
33.92
64
30.62
2
40.00

Table 1:



Distribution of children and adolescents assisted in the CAPS II center, according to the geopolitical territory of residence.

Figure 1 shows that CAPS II's mental health care assistance during the analyzed period was concentrated in the general population, and children and adolescents were assisted predominantly in 2019 (8.20% and 12.78%, respectively).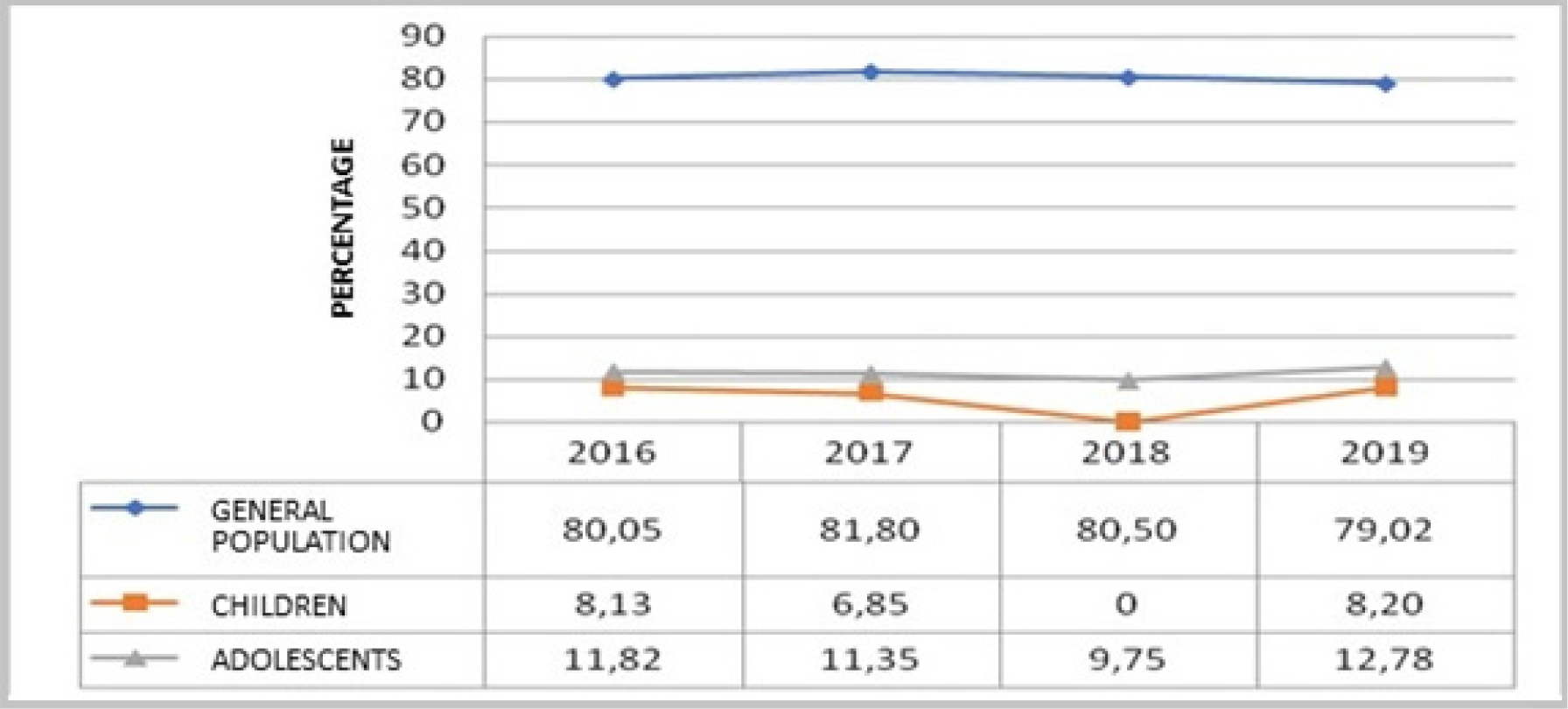 Figure 2 shows the distribution of mental health care attendance rates per month. It can be observed that the rate of attendance by the general population was higher in February (89.6%), that of the adolescents was higher in October (15.9%), and that of the children was higher in September (11.7%).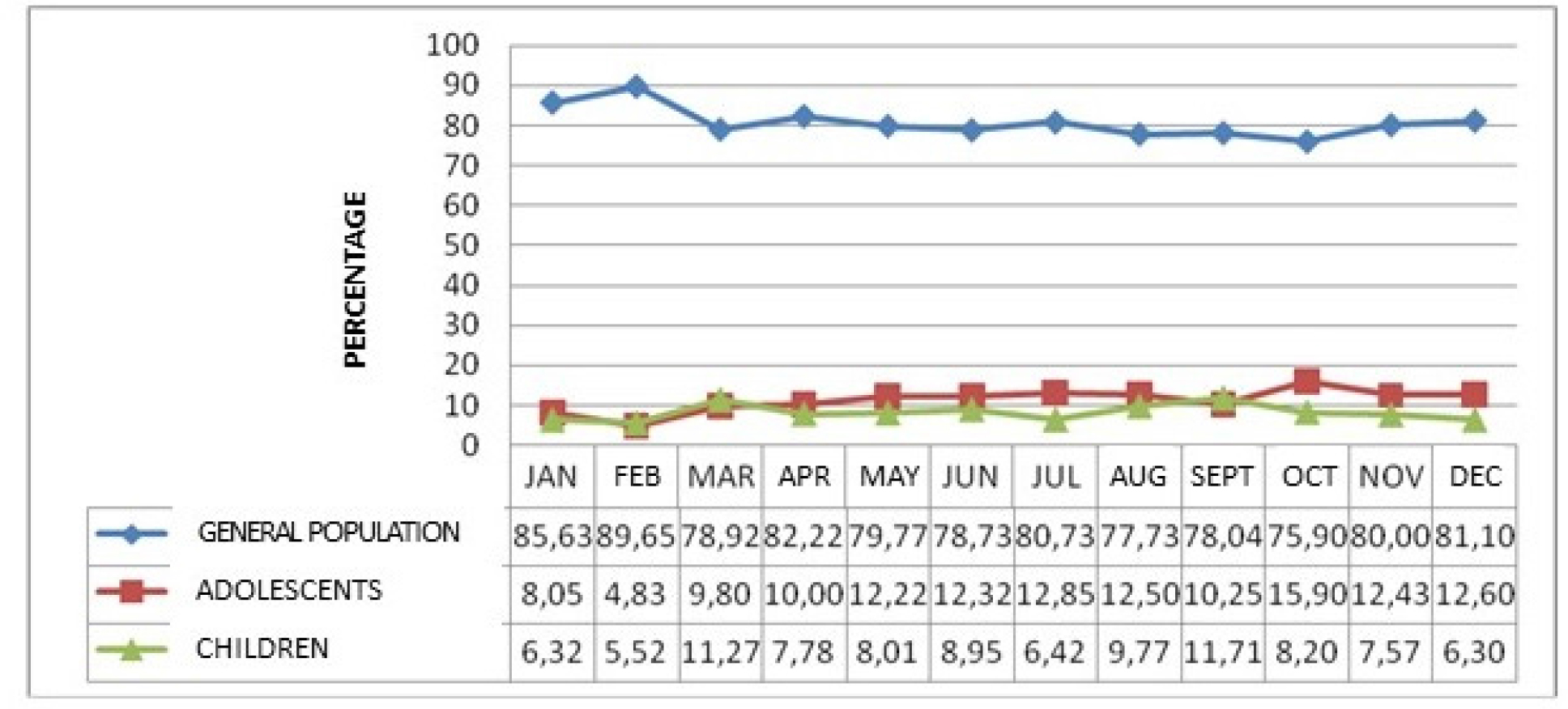 Table 2 shows that 54.12% of children remained with an active clinical record in the center during the analyzed period. The highest rate of inactive registers occurred among adolescents (52.23%). The inactive records correspond to situations in which children and adolescents are referred to other services, health care levels, or abandonment of follow-up. Concerning the outcomes, children (40.45%) and adolescents (36.89%) were referred to a primary healthcare center.
Variables
Children
Adolescents
n
%
n
%
Status of the medical record in 2020
Active
105
54.12
129
47.77
Inactive
89
45.88
141
52.23
Reasons for inactivity
Abandonment of follow up
34
38.20
45
31.92
CAPS-AD*
0
0.00
4
2.83
Primary healthcare center
36
40.45
52
36.89
SPA-UP**
1
1.12
1
0.71
No registry
18
20.23
39
27.65

Table 2:



Characterization of medical records and referrals.

As for the characterization of children who dropped out from the CAPS II psychosocial assistance, it was observed that 52.94% lived in the urban area and were seen only once (29.41%). Among the adolescents, the majority (77.77%) lived in urban areas, and more than a third (40%) were seen more than once in the mental health care service (Table 3).
Variables
Children
Adolescents
n
%
n
%
Geopolitical territory
Urban area
18
52.94
35
77.77
Countryside
9
26.48
9
20.00
Other municipality
1
2.94
1
2.23
No registry
6
17.64
0
0
Number of attendances
1
10
29.41
5
11.11
> 1
9
26.48
18
40.00
No registry
15
44.11
22
48.89

Table 3:



Characterization of the cases of abandonment of the treatment provided by the CAPS II center.

The records of children and adolescents who dropped out of the CAPS II care programs were consulted, and the telephone numbers of 43 guardians were obtained (20 children and 23 adolescents). Only two guardians of children and three guardians of adolescents had an updated telephone number and answered the calls. The results obtained through these phone calls are shown in Table 4.
Covariate
Children
Adolescents
n
%
n
%
Outdated telephone number
18
52.94
20
44.44
Updated telephone number and guardian reached by phone
2
5.88
3
6.67
No telephone number
14
41.18
22
48.89
Total
34
100.00
45
100.00

Table 4:



Results of telephone contact with guardians.

Five guardians reported difficulties related to the treatment at the CAPES II center (three adolescents from the urban area and two children, one from the urban area and one from the countryside). Representative statements are shown below:
She is well and is not feeling anything anymore because she improved. It was not for the follow-up appointments (R1 of a 13-year-old teenager).
"He is doing well, and there was no return appointment" (R2 of a 13-year-old teenager).
"He is doing well after the psychotherapy appointment, so he did not return to the CAPS" (R3 of a 13-year-old teenager).
"The child is aggressive and cries, and I didn't go ahead with the appointments, but I regret it" (R4 of a 5-year-old child).
"He is not getting better, and there was no return appointment" (R5 of a 9-year-old child).
Regarding the diagnostic hypotheses registered in the health records, we observed that most children did not have a diagnostic hypothesis registered (ICD-10 code), corresponding to 60.31% of the children and 71.11% of the adolescents. Of 52 children/ adolescents with an ICD-10 code registered, 7.73% of children had hyperkinetic disorders (F90), and 5.92% of adolescents had depression (F32), as shown in Table 5.
Diagnostic hypotheses
n
%
Children
F41
12
6.18
F84
11
5.68
F90
15
7.73
Other
39
20.10
No ICD-10 registered
117
60.31
Adolescents
F32
16
5.92
F41
9
3.34
F60
9
3.34
Other
44
16.29
No ICD-10 registered
192
71.11

Table 5:



Identification of the ICD-10 diagnosis codes in the health records examined.

DISCUSSION
This study summarizes the characteristics of mental health care provided to children and adolescents in the Psychosocial Care Center II, located in the north of Ceará, Brazil, from 2016 to 2019. We identified that children and adolescents ages ranged from 10 to 15 years. The majority resided in the urban area. The children continued to be followed up at the CAPS center, while most adolescents abandoned the mental health care programs. Most children/adolescents were referred to primary healthcare centers. The absence of diagnostic hypotheses in most records was a worrisome finding, resulting in a lack of information about the clinical situation of these children. Besides, many patients had outdated telephone contacts, making it difficult for the staff to reach the guardians of children who abandoned the treatments. When comparing the distribution of children and adolescents in the geopolitical territory, we observed that children were predominantly aged 10 to 12 years and adolescents 13 to 15 years.
The urban area was the predominant geopolitical territory. Given the above, there was a need to investigate the ethical and organizational precepts of the Brazilian Unified Health System (SUS) regarding universality and regionalization, as well as highlighting the importance of access to mental health services, regardless of the geopolitical territory where these children live. When analyzing the flow of assistance per year/month, an epidemiological cycle was verified, and it was impossible to characterize a seasonal attendance pattern at the CAPS II center. A similar result was obtained in a descriptive cross-sectional study carried out at CAPS II in Valparaíso de Goiás, in which 2,848 records were analyzed, showing an oscillation between January 2018 and January 2019.11
The current political context of mental health in Brazil may explain our findings. Authors have reported a disfiguration of the logistics of the organization of the health care system in the three levels of health care, considering the need for health, territorialization, assignment of clientele, bond, and health responsibility. A descriptive study about access barriers to mental health care services in Rio Grande do Norte, Ceará, and Piauí (three large states located in the Northeast of Brazil) showed that, in Ceará, there is a concentration of specialized psychosocial care services in the capital, and that people living in the countryside face difficulties in getting transportation to health centers. The study also revealed that the number of CAPSi (centers specialized in pediatric mental health services) in Ceará (7/131) is inferior to that of Rio Grande do Norte (3/39).14
We also found that 54.12% of the registers investigated were ACTIVE (children who continued to be followed up by the health staff working in CAPS II). The INACTIVE registers (45.88%) correspond to children referred to other sectors and those who have abandoned mental health care assistance in CAPS II. The rate of INACTIVE records among adolescents was 52.23% versus 47.77% ACTIVE registers.
Regarding the referrals, 40.45% of children were referred to primary health care centers, 1.12% to an Applied Psychology Service, and 38.20% dropped out. Regarding this variable, there was a lack of registration of referrals in 20.23% of the cases, reinforcing the need to improve the quality of the records.
Health professionals must consider the real needs of children and adolescents being referred to other services. The comprehensiveness of mental health care relies on the decentralization and expansion of health care assistance in the municipality.15 The process of counter-reference is essential to help the professionals understand which therapies will be conducted in the center to which the patient is to be transferred, sharing his assessments with other healthcare workers, thus, creating a particular therapeutic project.14 At this stage, the nurse's role as an articulator of decentralization and care expansion is highlighted.16
Primary Health Care (PHC) is one of the RAPS constituents. It is the gateway to the Unified Health System (SUS), centered on care, with capillarity throughout the national territory. Another aspect that brings the relevance of PHC is the proximity of health teams to families, schools, and other spaces where children and adolescents interact, favoring the bond and effectiveness of actions carried out in the territories.17 However, it is a fact that the existence of a mental health policy designed for children deserves more attention, and health professionals need to be trained better to address the specific needs of children/adolescents with mental health problems.18
Regarding the reasons for dropping out of the therapies offered by CAPS II, our findings indicate that some guardians decided to withdraw after noticing that their children have improved (which may generate possible complications). Others did not obtain a return appointment, and some decided to continue the therapies in primary health care centers.
Guardians of children and adolescents must be informed of the importance of follow-up. Thus, professionals working in the CAPS must articulate primary health care to achieve comprehensive care and avoid unnecessary hospitalizations and family suffering with the illness of children and adolescents, avoiding mental and behavioral disorders that impact individuals, families, and the community.19
Children and adolescents constitute a vulnerable public sensitive to healthcare interventions. Therefore, it is necessary to understand the difficulties regarding access to health care services, such as geography, distance to the service, availability of exams, and availability of transportation.20 Moreover, they need specialized care in health services, considering their physical, psychological, and mental characteristics.21
Our study also showed that the most frequent diagnosis was hyperkinetic disorders (F90), with 7.73%, followed by depression (F32), with 5.92% of adolescents.
Authors of a survey carried out in a CAPSi in Vitória between September 2016 and September 2017 observed that 65.33% (n=49) of the records did not present information on the diagnostic hypothesis.22 This result is similar to ours since 62.54% (n=502) of the health records analyzed did not present this information.
The fact that depression was the most frequent diagnosis among adolescents is worrisome, given the consequences of this illness. Another survey carried out with 300 adolescents aged 12 to 18 years from a public school in the city of João Pessoa (Paraíba), Brazil, showed that symptoms of depression were correlated with a low perception of Quality of Life (QOL) and well-being, requiring urgent actions.23 Another study in Portugal investigated the parent/child relationship and satisfaction with life as predictors of depression using a sample of 534 adolescents with an average age of 14.45 years (SD=89). The authors of the study above identified a high frequency of problematic family relationships, but the index of persons satisfied with life was also high, indicating that the absence of negative symptoms and the presence of positive aspects are important in coping with depression in adolescence.24
A prior study involving records from a mental health ambulatory in Içara, Santa Catarina, Brazil, showed the need to carry out actions related to child care from a biopsychosocial perspective since, by knowing the user, it is possible to identify subsidies to better plan professional practices.10
LIMITATIONS
As a limitation of this study, we did not deeply analyze the weaknesses that affect the assistance provided to children and adolescents in the study scenario and the needs of health professionals who work in CAPS II. Besides, additional qualitative studies in small municipalities that do not have a CAPSi are needed.
RECOMMENDATIONS
The fact that most children and adolescents were residents of the urban area makes us think about the difficulties faced by those living in the countryside to access a CAPS II center. Further studies would be needed to clarify the above aspects. The scarcity of information in health records is a problem that compromises contact with parents and legal guardians. In addition, the need to offer mental health care designed specifically for children and adolescents was reiterated by the study findings.
CONCLUSION
This study showed that CAPS II provide mental health care for adults, children, and adolescents. There was no seasonal attendance pattern concerning the age of the patients attending CAPS II. The age range found in our study was similar to that pointed out in prior studies. Adolescents constituted the public that most abandoned the treatments offered by CAPS II. We believe that an active search conducted by nurses and other professionals would be necessary, not only for adolescents but also children. The high number of children and adolescents referred to a primary health care center is in line with the principles of the Brazilian SUS, which propose a continuous follow-up considering the capillarity of the network of health services and the proximity to family members. The most identified diagnostic hypotheses were in line with prior studies (hyperkinetic disorders in children and depression in adolescents).