ABSTRACT
The production of nanoparticles with the use of microbes is a technology that is environment friendly. This paper highlights the use of a syndicate of various micro-organisms (bacteria, actinomycetes, fungi, and algae) for the amalgamation of various metallic and metal oxide nanoparticles. When compared to physical and chemical methods, which are expensive, complicated, hazardous, and produce toxic wastes that are detrimental to the environment and the health of a variety of living beings, the synthesis of nanoparticles through the biological route is not only inexpensive, but also environmentally friendly, sustainable, and does not require a significant amount of energy to complete. This is in contrast to the fact that the physical and chemical methods are responsible for producing nanoparticles, which is an energy-intensive Nanoparticles can be biosynthesized via extracellular or intracellular pathways, depending on the particular circumstances. Capping, enzymatic reduction, and metal capture are the three steps that are involved in the process of nanoparticle production by micro-organisms. The organisms as well as the parameters that are utilised, such as temperature, pH and substrate concentration, all play a role in determining the size and form of the nanoparticles. The biogenesis of these nanoparticles takes place in a short amount of time and results in particles that have the right size and form. These nanoparticles are reliable and risk-free, and they have a wide range of applications in a variety of fields, including drug administration, cancer treatment, gene therapy, agricultural biosensors, the cosmetics sector, and many others.
Keywords: Biosynthesis, Nanoparticles, Nano-fertilizers, Micro-organism, Nano-pesticides
INTRODUCTION
Richard Feynman gave the infamous speech "There's a plenty of room at the bottom" at the American Institute of Technology, which is where the notion of nanotechnology was firstly presented. The word "nano" from nanotechnology is derived from the Greek word nanos, which means "dwarf ". In order to generate desired features and functionalities and for a variety of applications, nanotechnology involves removing portions of matter's structure at the atomic, molecular and supramolecular levels that range in size from 1 to 100 nanometres. Numerous industries, including drug delivery and other biomedical ones, have been affected by nanotechnology.1–5 Nanoparticles are manufactured by chemical, physical and biological methods. The physical methods include crushing, grinding, pyrolysis, milling, ball processing, etc. On the other hand, sol-gel process, irradiation reduction, electrolysis, ultrasonic assisted reduction, etc. For the mass fabrication of nanoparticles, physical techniques are subpar. Due to their higher energy requirements, higher input costs, and poorer yield of NPs, physical techniques are less effective for producing nanomaterials on a wide scale.6 Higher energy requirements and input costs are the main contributors to the reduced NPs yield. Because they use less energy during the reduction of metals and the creation of homologous NPs with high accuracy, chemical approaches to NP synthesis have been popular in recent years.7 These conventional techniques for homogenous NPs therefore have good accuracy. Traditional methods of NPs synthesis are time-consuming, laborious, hazardous, antiquated, expensive, inefficient, and based on the use of unsafe (cytotoxic, genotoxic, and carcinogenic) toxic chemicals, which are act as powerful environmental pollutants. Modern methods of NPs synthesis are based on the use of non-hazardous, up-to-date, cost-effective alternatives.8,9,19 Additionally, the biomedical uses of NPs made from pollutants. Additionally, due to their instability and hazardous character, the biomedical applications of NPs synthesised through chemosynthesis have been restricted. Therefore, it is crucial to create dependable, non-toxic, and environmentally friendly technologies for synthesising nanoparticles in order to increase the scope of their biomedical applications. Using microbes to create nanoparticles is one way to accomplish this. According to research, microbes are among the unique resources that have the greatest potential for manufacturing nanoparticles.10–19 With the use of microbes, the usage of pricey chemicals is removed, and the increasingly popular "green" approach uses less energy and is better for the environment than the chemical approach. The bulk of the bacteria live in environments with a variety of temperature, pH, and pressure, which lends support to the "biogenic" theory. Due to the bacterial carrier Matri, the particles produced by these procedures have better catalytic reactivity, more surface area, and improved interaction with the relevant metal salt.20,21 A wide variety of applications for the biosynthesized nanoparticles have been created, such as pharmaceutical carriers for targeted delivery, gene therapy, DNA analysis, cancer treatment, antibacterial agents, biosensors, separation science, Magnetic Resonance Imaging (MRI) and so on. This approach provides a succinct rundown of techniques for micro-organisms to produce nanoparticles, followed by a discussion of applications.
MECHANISM OF NANOPARTICLES SYNTHESIS
Numerous micro-organisms either create inorganic compounds inside or outside of the cell. But with various biological agents, the mechanism of nanoparticle synthesis differs for intra and extracellular. The intracellular technique makes use of a unique ion transport system within the microbial cell. The cell wall of the micro-organisms is crucial in the intracellular creation of nanoparticles. The microbial cultures are kept alive in the proper growth medium with favourable pH and temperature conditions, and the microbial biomass is cleaned with sterile distilled water before being centrifuged to produce the pellet of biomass.22–24 Then, an aqueous metal solution is introduced to the microbial biomass. The mixture of metals and microbial biomass is then grown under the desired incubation conditions until a particular chromatic shift is noticed. The development of NPs is indicated by the emergence of a certain hue. An appearance of a pale yellow to yellow tint denotes the synthesis of manganese and zinc nanoparticles. While a pale yellow to pinkish appearance suggests the synthesis of gold nanoparticles, a pale yellow to brownish appearance suggests the synthesis of silver nanoparticles.25 At this stage, the negatively charged cell walls of micro-organisms' trap positively charged metal ions. Enzymes bio reduce these metal ions within the cell wall, forming nanoclusters along the way before the NPs finally diffuse out of the cell wall and into the solution.26 Therefore, the microbial cells absorb the metal ions throughout the intracellular process, and in the presence of cellular enzymes, the metal ions are changed into NPs inside the cell as shown in Figure 1.27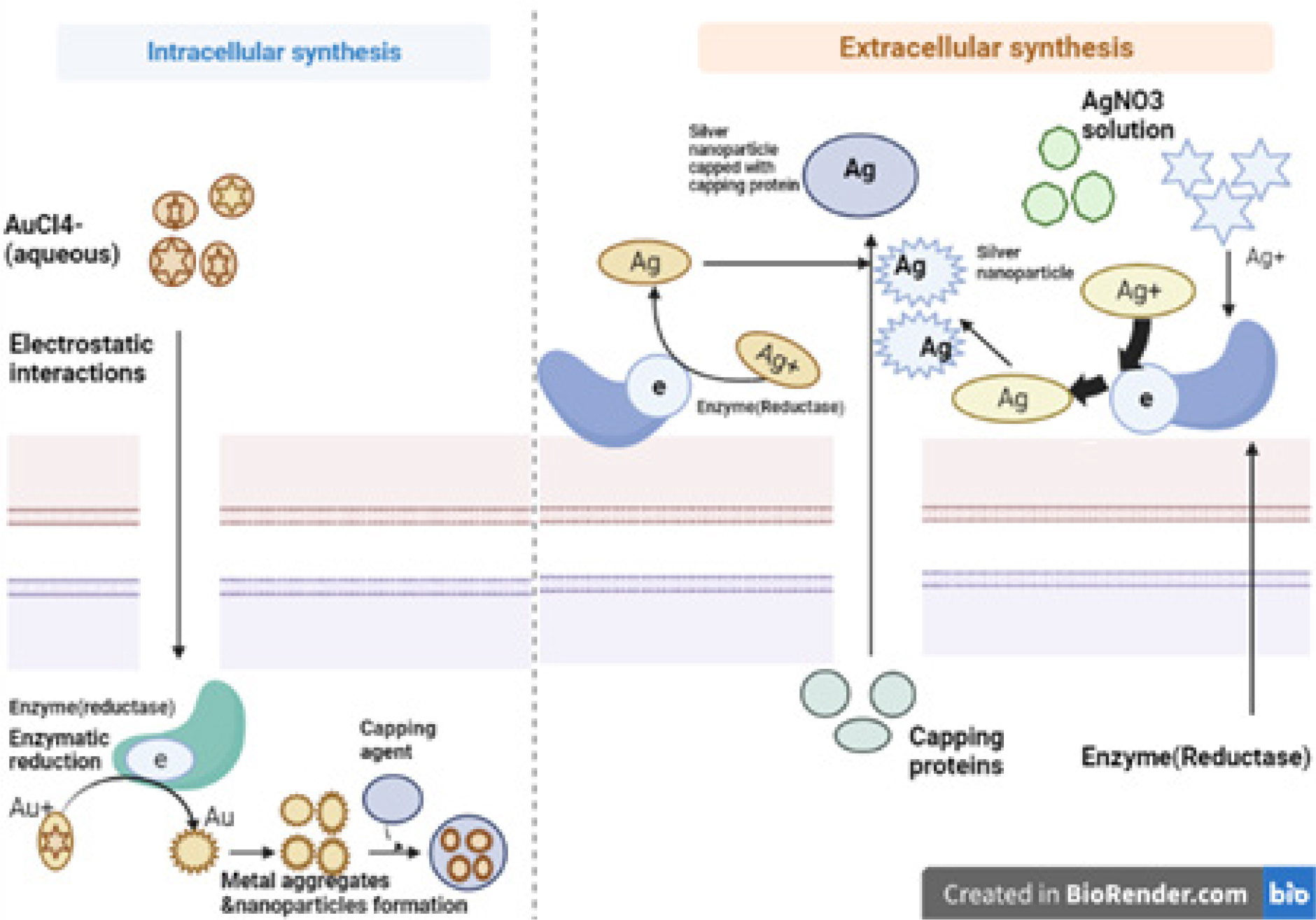 The production of metal NPs by reductase enzymes, which are either found in the cell wall or released from the cell into the growth medium, occurs during the extracellular biosynthesis of nitrate reductase. The nitrate reductase converts metal ions to their metallic forms during this process.28,29 Additionally, the existence of several components in micro-organisms, such as proteins, enzymes and other biological molecules, is crucial to the process of reducing metal NPs.28 By using NADH-dependent reductases as the electron carrier, the reduction pathways appear to start by transferring an electron from NADH.30 Additionally, micro-organisms can release proteins that serve primarily as a stabilising agent and maintain colloidal stability while inhibiting metal NP clumping.28
BIOSYNTHESIS OF NANOPARTICLES
As indicated in the Figure 2, nanoparticles can be synthesized by various micro-organism.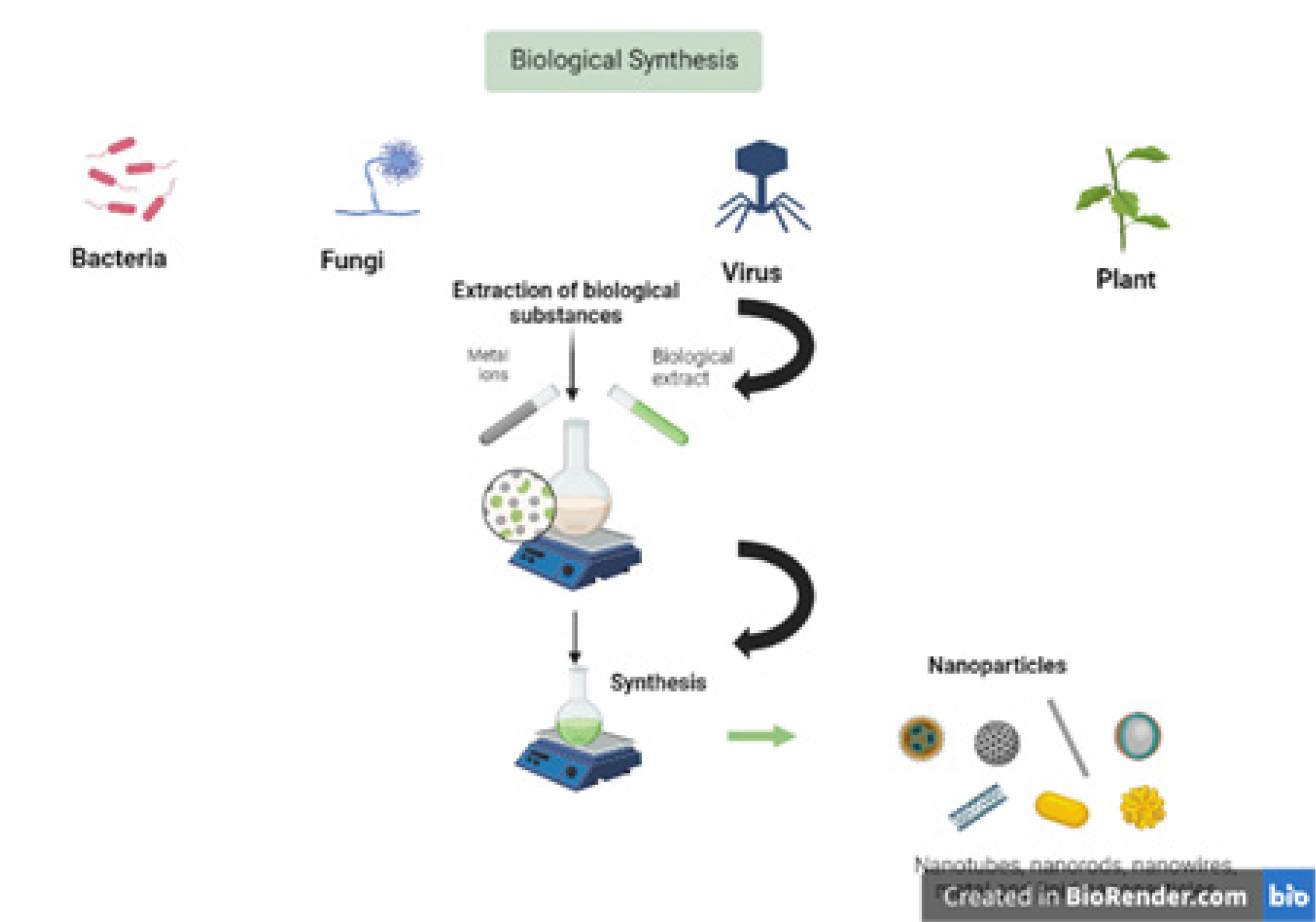 BIOSYNTHESIS OF NANOPARTICLES BY BACTERIA
A bio-nanofactory has been used to create a variety of metal nanoparticles, including Ag, Au, Cu, etc, as well as metal oxide nanoparticles, including Ag2O, CuO, ZnO, TiO2, MnO2, MgO, Fe2O3, etc.31 These NPs have a wide range of applications, such as the development of third generation biosensors,32 the creation of biofilms,33 the labelling and imaging of cell,34 sensoristic devices,35 and diagnostics.36 Additionally, bio fabricated NPs showed promise as anticancer,37–44 antibacterial, antioxidant,40 anticoagulant,42 and antimigration and antiproliferative agents.41 Bacteria are incredibly resilient to abiotic stressors and have the unique capacity to convert heavy metals into NPs. For example, some bacteria, such as Pseudomonas stutzeri (a facultative aerobe) and P. aeruginosa (a facultative anaerobe), can thrive and endure in environments with high quantities of metals, particularly heavy metals.45,46
It is known that bacteria can produce inorganic compounds either inside or outside of their cells. Silver nanoparticles have also been created in the periplasmic region of Bacillus species.47 Silver nanocrystals with a size of 200 nm were generated the bacteria Pseudomonas stutzeri.48,49 The deposition of the particles in vacuole-like granules in the periplasm, likely accompanied by metal efflux and metal binding, was the cause of P. stutzeri's resistance to silver. The inhabitants of gold mines would be better equipped to withstand the poisonous effects of soluble gold and manufacture gold nanoparticles.50 The colour of the gold nanoparticles (AuNP) containing colloidal solution varied greatly when Acinetobacter sp. SW30 was incubated with different concentration of gold chloride and different cell densities, indicating variation in size and shape. Surprisingly, monodispersed spherical AuNP of size 19 nm was seen at the lowest cell density and HAuCl4 salt concentration, whereas cell number increase led to the development of polyhedral AuNP (39 nm). The extracellular creation of gold nanoparticles in a range of sizes and shapes was also discovered to be mediated by Rhodopseudomonas capsules. The strain was utilised to produce triangular plate (50-400nm) and spherical (10-50nm) AuNPs.51 It has also been shown that ZnO nanoparticle biosynthesis occurs in Lactobacillus plantarum.52 Aeromonas hydrophila, a gram-negative bacterial strain, has been investigated for the production of ZnO nanoparticles with additional antibacterial uses.53 Halomonas elongate was used to create triangular CuO nanoparticles, which demonstrated antimicrobial activity against S. aureus and E.coli.54 Streptomyces sp. (intracellular route) has been used to reduce manganese and zinc nanoparticles quickly and easily. Manganese and zinc NPs ranged in size from 10 to 20 20 nm Table 1.55
Bacteria
Nanoparticles
Size
Applications
Escherichia coli

56

Ag
5-50 nm
Antimicrobial activity
Mycobacterium sp.57
Au
5-55 nm
Anticancer
Bacillus subtilis

58

Fe3O4
60-80 nm
Antimicrobial activity
Serratia nematodiphila

59

Zinc sulphide
80 +(-)10 nm
Antibacterial
Lactobacillus sporogenes

60

ZnO
145.70 nm
Antimicrobial activity
Gordonia amicalis

61

Ag
5-25 nm
Antioxidant Scavenging activity
Lactobacillus fermentum

62

Iron oxide
10-15 nm
Antimicrobial activity
Shewanella loihica

63

Cu
10-16 nm
Antibacterial activity
Lactobacillus sp.64
TiO2
50-100 nm
Immobilization or refolding of enzyme
Brevundimonas diminuta

56

Ag
5-50 nm
Antimicrobial activity
Lactobacillus plantarum

52

ZnO
7-19 nm
Treatment of cardiovascular diseases
Bacillus licheniformis

65

Cadmium sulphide
20-40 nm
Antibacterial activity
Bacillus sp.66
Selenium nanoparticles
80-220 nm
Antioxidant and cytotoxic effect
Paracoccus haeundaensis BC7417167
Au
20.93+(-)3.46 nm
Antioxidant activity and antiproliferative effect

Table 1:



Biosynthesis of Nanoparticles using bacteria.

Bacteria use a variety of mechanisms for the synthesis of nanoparticles, including changes in solubility and toxicity caused by reduction or oxidation, the absence of a dedicated metal transport system, biosorption, extracellular complexation or precipitation of metals, bioaccumulation, and efflux system. Bacteria can be used to create nano mineral crystals with properties that are identical to those of chemically produced nano materials. Bacteria can also be used to control the nanoparticles' different sizes, shapes, and compositions.
BIOSYNTHESIS OF NANOPARTICLES BY FUNGI
Application of myco-nanotechnological methods is a successful biogenic strategy for producing different metal nanoparticles. Nano synthesis can occur either extracellularly or intracellularly just like in bacteria. More proteins are secreted by fungi, which increases the productivity of nanoparticles.68 After being exposed to HAuCl4 solution, the gold nanoparticles were produced intracellularly in the biomass of Verticillium species.69 Another study used Fusarium oxysporum strains to produce extracellular silver metal nanoparticles between 20 and 50 nm.70 Kumar and their groups generated in vitro silver nanoparticles (10-25 nm) stabilized by a capping peptide utilising the nitrate reductase enzyme obtained from Fusarium oxysporum, phytochelatinin, and 4-hydroxyquinoline in the presence of reduced cofactor Nicotinamide Adenine Dinucleotide Phosphate (NADPH).71 The fungi Cladosporium sp. extracted from the medicinal plant Commiphora wightii, were used in Munawer et al 2020.'s report to extracellularly green synthesise spherical gold NPs that were 5-10 nm in size and displayed excellent antiproliferative activity against the breast cancer cell line MCF-7.72 Similar to this, Ramos et al., 2020 described the extracellular manufacture of silver NPs from Trichoderma spp., collected from seeds of plant Bertholletia excelsa (Brazil nut), and came to conclusion that the bio fabricated silver NPs showed greater antibacterial action against Gram-negative bacteria.73
Neethu et al. (2018) demonstrated the environmentally friendly synthesis of silver NPs from the fungus Penicillium polonicum, isolated from the marine green alga Chetomorpha antennina, and came to the conclusion that the biosynthesised silver NPs demonstrated strong antibacterial activity against the biofilm-forming, multidrug-resistant bacterium Acinetobacter baumanii.74 Excellent antibacterial capability was shown by ZnO nanoparticles mediated by Aspergillus niger, and Bismark brown dye deteriorated by up to 90%.76
Aspergillus nidulans has recently been used to create cobalt oxide nanoparticles.76 The switch from bacteria to fungi has the additional benefit of making downstream biomass processing and handling considerably simpler, which can help develop natural nanofactories. Compared to bacteria, fungi are more resourceful in the manufacture of nanoparticles due to their abundance of bioactive metabolites, high aggregation, and enhanced manufacturing Table 2.
Fungus
Nanoparticles
Size
Applications
Penicillium oxalicum

77

Ag
60-80 nm
Antibacterial activity
Macrophomina phaseolina

78

Ag
5-40 nm
Antimicrobial properties
Cladosporium sp.72
Au
5-10 nm
Photodegradation, in vitro anticancer activity and in vivo antitumour studies
Neurospora crassa

79

Au
3-100 nm
Antimicrobial properties
Aspergillus flavus

80

TiO2
62-74 nm
Antimicrobial activity
Agaricus bisporus

81

ZnS
2.9 nm
Antibacterial activity
C. geniculatus

82

ZnO
2-6 nm
Antibacterial activity
Coriolus versicolor

83

CdS
100-200 nm
Antitumour properties
Morchella esculenta

84

Au
16.51 nm
Antimicrobial activity and cytotoxic activity
Cladosporium perangustum

85

Ag
30-40 nm
Antioxidant, anticancer, and nano-toxicological study
Trichoderma harzianum

86

Au
32-44 nm
Antibacterial activity
Thermophilic fungus Humicola sp.

87

CeO2
12-20 nm
Antibacterial
Penicillium chrysogenum

88

Pt
5-40 nm
Cytotoxicity
Penicillium janthinellum DJP06

89

Au
1-40 nm
Anticancer activity
Trichoderma longibrachiatum

90

Ag
10 nm
Antifungal against phyto-pathogenic fungi
Verticillium sp.

91

Ag
25 +(-) 12nm
Antimicrobial activity

Table 2:



Biosynthesis of Nanoparticles using fungi.

BIOSYNTHESIS OF NANOPARTICLES BY ACTINOMYCETES
Important traits of fungi and prokaryotes, such as bacteria, are shared by actinomycetes. Actinomycetes have been found to be crucial in the creation of metal nanoparticles. Due to their synthesis of numerous bioactive components and extracellular enzymes through their saprophytic activity, actinomycetes are regarded as superior groupings among microbial species of commercial value.92 Only a few species from the actinomycetes have been found for the production and characterisation of gold nanoparticles, including Thermomonospora, Nocardia, streptomyces, and Rhodococcus.93 An alkalothermophilic actinomycete called Thermomonospora sp. produced gold ions with a diameter of 8 nm when exposed to extremely alkaline conditions and elevated temperatures. Gold nanoparticles were created using Rhodococcus sp., an actinomycete that can withstand alkaline conditions. These gold nanoparticles, whose sizes range from 5 to 15 nm, were created intracellularly. Actinomycetes produce nanoparticles when metal ions undergo intracellular reduction on the surface of mycelia and cytoplasmic membranes.94 According to some researchers, the electrostatic interactions between Ag+ and negatively charged carboxylate groups in mycelial cell wall enzymes may be the method by which metal nanoparticles are synthesised intracellularly. Enzymes in the cell wall that cause the creation of silver nuclei reduce the silver ions; this causes the nuclei to grow by further decreasing the silver ions and accumulating Ag+ ions.95 The fact that the cells kept growing even after the nanoparticles developed indicates that the metal ions were not hazardous to the cells Table 3.
Actinomycetes
nanoparticles
Size
Application
Gordonia amarae

96

Au
15-40 nm
Application in rapid sensing of copper ions
Gordonia amicalis

61

Au
5-25 nm
Antioxidant scavenging activity
Streptomyces viridogens HM1097
Au
18-20 nm
Antibacterial activity
Actinomyces sp.95
Ag
10-20 nm
Antibacterial activity
Nocardiopsis sp. MBRC-198
Ag
45 nm
Antimicrobial activity
Marine endophytic actinomycetes99
Cu
Nano range size
Antibacterial efficacy
Rhodococcus sp. (Actinomycete)94
Au
5-15 nm
Antimicrobial activity
Streptomyces sp. JAR1100
Ag
60-70 nm
Antimicrobial activity
Streptomyces sp. LK3101
Ag
5 nm
Acaricidal activity against Rhipicephalus microplus and Haemaphysalis bispinosa
Actinomycetes102
Ag
5-50 nm
Antibacterial activity

Table 3:



Biosynthesis of Nanoparticles using Actinomycetes.

BIOSYNTHESIS OF NANOPARTICLES BY ALGAE
Algae are also increasingly being used for the production of nanoparticles. Using Cystoseira trinodis, CuO nanoparticles with dimensions of about 7 nm were produced biochemically. They were found to have enhanced antioxidant and antibacterial capabilities as well as methylene blue degradation potential.103 Rapid extracellular production of Au nanoparticles with size range of 8 to 12 nm was seen in the marine alga Sargassum wightii grevillea.104 An additional environmentally acceptable method that recovers Au from diluted hydrometallurgical solutions and leachates of electronic wastes is bio reduction using Fucus vesiculosis. Sargassum crassifolium, a macroalgae and sea grass, has been used in the production of AuNPs. Intriguingly, this study's UV absorption spectra showed a blue shift as S. crassifolium concentration was increased, which was explained by a reduction in nanoparticle size caused by an increase in nucleation centres in the reductant.105 The creation of unique core (Au)-shell (Ag) nanoparticles has also been studied using Spirulina platensis.106
APPLICATIONS
Nanoparticles are good candidates for a variety of applications in different sectors due to their distinctive size, shape, structure and biological, physical, and chemical properties.
Biomedical
Drug delivery
Nanomaterials are an excellent tool for improving the bioavailability, stability, and bioactivity of pharmaceuticals and can be employed as vehicle for targeted drug administration. Liposomes, nanospheres, polymeric micelles, water-soluble polymers, nano-emulsions, and NP-coated natural antibodies are some of the most common drug delivery nanomaterials.118,119 The use of nanomaterials as medication delivery systems has various benefits over more conventional ones. Targeted drug administration can lower the likelihood of adverse drug reactions in patients. The effectiveness of ZnONPs bio fabricated from pyridinivorans as nanovehicles for anthraquinone was investigated by Kundu.120 ZnoNPs loaded with anthraquinone were found to be cytotoxic to HT-29 colon cancer cells in a concentration-dependent manner, leading to conclusion that they could be used for targeted drug delivery. Fe3O4 (magnetite) and Fe2O3 (maghemite), two types of magnetic nanoparticles, are known to be biocompatible. They have been actively researched for MRI, guided medication delivery, gene therapy, targeted cancer treatment (magnetic hyperthermia), stem cell sorting, and manipulatinves.121 With the addition of its uses as an antibacterial, anti-fungal, antiviral and anti-inflammatory agent, silver nanoparticles have been widely exploited as a novel therapeutics agents. According to Kalishwaralal, Bacillus licheniformis produce silver nanoparticles that may have anti-angiogenic. In addition to more conventional delivery methods, gold nanoparticles have shown promise as a drug and gene delivery scaffold.39 They have special qualities that should makes new delivery methods possible, such as low inherent toxicity, high surface area, stability, and function tunability. Due to their small size, nanoparticle drug carriers are able to pass across the blood-brain barrier and skin's tight epithelial junctions, which frequently limit the delivery of drugs to their intended target location. Due to their high surface area to volume ratio, nanocarriers display better pharmacokinetics and biodistribution of medical medicines, hence limiting toxicity by preferentially accumulating at the target site.122 It is hoped that targeted drug delivery using nanoparticles will result in a large reduction in the dosage of anticancer medications with improved specificity, increased efficacy, and minimal side effects.
| Algae | Nanoparticle | Size | Application |
| --- | --- | --- | --- |
| Nostac linckia 107 | Ag | 5-60 nm | Antibacterial |
| Amphiroa rigida 108 | Ag | 25 nm | Antibacterial, cytotoxicity, and larvicidal efficiency |
| Galaxaura elongate 109 | Au | 3.85-77 nm | Antibacterial |
| Cystoseira baccata110 | Au | 8.4 nm | Anticancer |
| Spirulina platensis 111 | Pd | 10-20 nm | Adsorbent |
| Sargassum wightii 112 | ZrO2 | 18 nm | Antibacterial |
| Chlorella pyrenoidosa 113 | CdSe QD | 4-5 nm | Imatinib sensing |
| Neochloris oleoabundans 114 | Ag | 40 nm | Antibacterial |
| Leptolyngbya 115 | Ag | 5-50 nm | Antibacterial, anticancer |
| Ulva armoricana sp. 116 | Ag | 33 nm | Bactericidal activity |
| Chlorella ellipsoidea 117 | Ag | 220.8 +(-) 31.3 nm | Photophysical, catalytic, and antibacterial activity |
Biosensors
Nanoparticles can be employed in biosensor applications and have fascinating electrical and optical features. According to Zheng et al., yeast-produced Au-Ag alloy nanoparticles were used to create a sensitive electrochemical vanillin sensor.123 Electrochemical tests showed that the vanillin sensor based on glassy carbon electrode modified with Au-Ag alloy nanoparticles could increase the electrochemical response of vanillin by at least five times. Vanillin's oxidation peak current increased linearly with concentration at the sensor under ideal operating circumstances, with a low detection limit of 40 nM. This vanillin sensor was successfully used to measure the amount of vanillin in samples of vanilla bean and vanilla tea, indicating that it might be useful in vanillin monitoring systems.
Agriculture
The use of nanoparticles in agriculture is a new field that has largely remained theoretical. This technology enables the delivery of insecticides encased in nanomaterials for measured and controlled release, the consistency of biopesticides, the slow release of nanomaterial-assisted fertilisers, bioinoculants, and the incorporation of essential micronutrients for organised use in addition to the field applications of agrochemicals.
Nano-fertilizers
A significant problem in the agriculture industry is the steadily declining soil fertility brought on by the excessive use of artificial fertilisers. Research is currently being done to develop nanocomposites that will deliver all the necessary nutrients nano-fertilizers in the right amounts through intelligent delivery systems. With the aforementioned in mind, chemical fertilisers are encapsulated within nanoparticles, which aids in coordinating fertiliser discharge with crop uptake and transportation, preventing unintended nutrient losses. Furthermore, the foliar application of nanoparticles as chemical fertilisers has been linked to a notable increase in yields.124 In addition to this, research has demonstrated that nanosilica particles are able to produce films at the level of the cell wall. These are absorbed by plant roots., which can considerably improve plants' tolerance to biotic and abiotic challenges and, as a result boost crop yield.
Nano-pesticide
The active ingredients can be successfully shielded from the harsh environment using the nano-encapsulation technique. This strategy also advances persistence, a successful nanotechnology strategy utilised to advance the insecticidal value.
Insecticides, fungicides and nematodes can be nano-encapsulated to create a mixture that will effectively manage pests while preventing or minimising the formation of residues in the soil. NPs can be found in nanop-esticides as micelles, particles, nano-polymers (an organic component), and metal oxides (inorganic constituent). Numerous research has described how metallic NPs can be employed as efficient pesticides against a wide range of insects and pests that cause productivity losses in agriculture around the world.125–128 For instance, Wang showed that a new Oil-Water (O/W) based nano-emulsion may be employed to carry the insecticide Beta-Pypermethrin successfully (beta-PP).129 The outcomes of this study indicate that beta-PP coated on nano-emulsion dispersed more effectively than ordinary beta-PP did, which resulted in a reduction in the total amount of pesticide that was applied. In another study, conducted by Goswami, the researchers discovered that certain Nanoparticles (NPs), such as aluminium oxide, silver, zinc oxide, and titanium oxide NPs, have the ability to prevent silkworms from contracting illnesses caused by baculoviruses such as Bombyx mori nuclear polyhedrosis virus and Sitophilus oryzae.126
Food Industry
Nanoparticle use in the food industry. In the food business, NPs can be applied to two crucial processes: food packaging and food processing.130,131 Nanomaterials are used in packaging materials to stop contamination and maintain food item freshness.132 The capacity of silver NPs to break through the bacterial cells' protective biofilm gives them tolerance to stress. Silver NPs can therefore be used in the cleaning and disinfection steps of food packaging.133
CONCLUSION
Especially in the fields of electronics, energy, and medical science, nanotechnology is a rapidly evolving and emerging branch of study. Over the past ten years, there have been many significant advancements in the field of micro-organism-produced nanoparticles and their applications. Microorganism-based nanoparticle production is an environmentally beneficial method. Many prokaryotic and eukaryotic groups of micro-organisms have the ability to synthesise nanoparticles, and they have a tightly controlled cellular system. As a result, they could be a useful alternative to common chemical and physical approaches that release numerous hazardous chemicals and radiations into the environment during nanoparticle synthesis. Though, in comparison to physical and chemical methods, the creation of nanoparticles utilising micro-organisms is a somewhat sluggish process but its capacity to control size and form would present a significant advantage over chemical and physical methods. The majority of the bacteria live in environments with a variety of temperature, pH, and pressure, which lends support to the biogenic theory. Due to the bacterial carrier matrix, the particles produced by these procedures have increased specific surface area, and enhanced interaction between the enzyme and the relevant metal salt. The use of biologically synthesised nanoparticles in various fields like agriculture, food industry, biomedical, etc are safe, nontoxic, and environmentally acceptable.